Our favorite premium green bean
Heavy yielder of extra long, dark green tender pods that have excellent flavor in spite of their big size. Pods are straight, slender and grow 6 - 7 inches in length. We highly recommended Jade. 60 days to harvest. (2 oz. pack sows a 20-25 foot row) PVP (Plant Variety Protected, propagation prohibited)
Customer Reviews
08/03/2022
Marlin M.

United States
Very helpful when ordering on line. Just wish there was a break on postage. :( Very helpful employees.
Marlin, Thank you for the 5 star review! We are currently in negotions with UPS and are hopeful that we will soon be able to offer better shipping rates. Jim G
07/29/2022
Andrews

United States
Thanks
I think I've picked about 5 bushels of beans off of the 100 ft. row. since they started coming in. Every other day there are beans to pick. Hardly have time to can the ones I pick before it's time to pick again.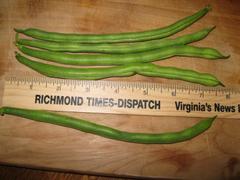 Large crops
I bought these in 2020 because JS was the only company filling orders. I planted in 2020 and 2021 with 90% plus germination rate. Inoculation and a light CaNO3 early provides a hearty crop. I'm a blue lake fan but these are definitely one of my favorites.