Seed treated with fungicide
(SE=Sugar Enhanced) Plant Buttergold and you will have mouth-watering tender sweet ears on your table in only 63 days! The sugar enhanced ears have long keeping quality and are good for freezing. Buttergold also has excellent cold soil emergence and can be planted earlier than other varieties.
Days to Maturity- 63
Approximate Seeds per Pkt- 250
Customer Reviews
08/02/2023
david b.

United States
Corn ****
it look so good. love you long time. grow big. if satan wills.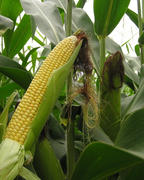 07/30/2022
Jason O.

United States
Buttergold Sweet Corn
My experience with this product is incomplete as I have yet to harvest it. So far the corn has not come up like I expected it to. But some of that could be caused by poor soil conditions and not seed quality.
Jason, Thank you for taking the time to share this experience with us. Please feel free to reach out to us at info@rohrerseeds.com if you continue to have problems or would like to discuss methods to improve your soil quality. Jim G.
07/29/2022
David B.

United States
Greatest tasting creamed corn!
I have planted this variety for a number of years, and it is the sweetest of all corn varieties I have tried. Everybody tasting it when I thaw some creamed corn, accuses me of have adding added sugar to it. I never add anything to it before cooking, and only a little salt or Old Bay seasoning when cooking it.